iWavit Set-Up Options
How do you set up your iWavit for IR and PC control?  How do you set it up in a large conference room, or a small living room, or a bedroom? How does it change if you TV is large or small, or you use a projector?
This is not difficult, but we want to show you some examples.
Setup for Controlling IR devices
How do you use the iWavit as a universal IR remote?
You can, of course use the iWavit Attachment to blast IR signals directly from your iPhone or iPad or iPod touch. This picture shows how to do that:
You can also blast signals from the iWavit USB dongle & IR Lightbar. This is called the "IR Extender" functionality.  For this, you can place the IR Lightbar almost anywhere in your room. As long as it is connected to the iWavit USB dongle you can use it as a very powerful RF-to-IR repeater.  The RF range from your iPhone to your iWavit USB dongle is over 300 ft. The IR light being blasted from the Lightbar is about 10x stronger than a regular remote control, so it should control anything in your room. Using the IR Repeater is especially useful when you use the iWavit Tabula Rasa app to create a remote with buttons that include macros (or a sequence of commands).
If you have equipment you want to control that is inside of cabinets then you can either buy an additional USB Dongle & IR Lightbar, or you can buy an additonal IR Lightbar and a splitter cable so your single iWavit USB dongle can control two (or more) IR Lightbars at once.
The following picture shows you how to use the iWavit USB dongle & IR lightbar as a RF-to-IR Extender: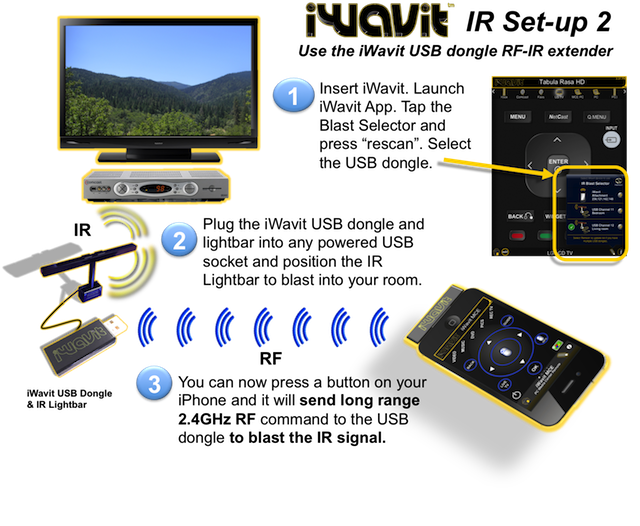 Living Room PC Setup
The key thing to understand is that for the patented 3D Mouse feature to work, you need to position the IR Lightbar beneath (or above) your Screen.
The iWavit Attachment and Wavit 3D Remote contain an optical tracking module that calculates its own position and orientation in 3D space by line-of-sight tracking of the Lightbar.  (This is very similar to how the Nintendo Wii operates so it should not be unfamiliar to many).  This means you need to place the Lightbar near the screen you want to interact with.
Here your TV and PC are near each other. 1. Plug the Lightbar into the iWavit USB dongle and place the lightbar beneath (or above)  your TV.  It is not critical where you place it or if you move it, just be sure to place it so you have a clear line-of-sight to it.  2. Insert the iWavit USB dongle into your PC or Mac. 3. Plug the iWavit Attachment into your iPhone or iPad and launch an iWavit app, like iWavit TalknPoint or iWavit MCE for Windows Media Center.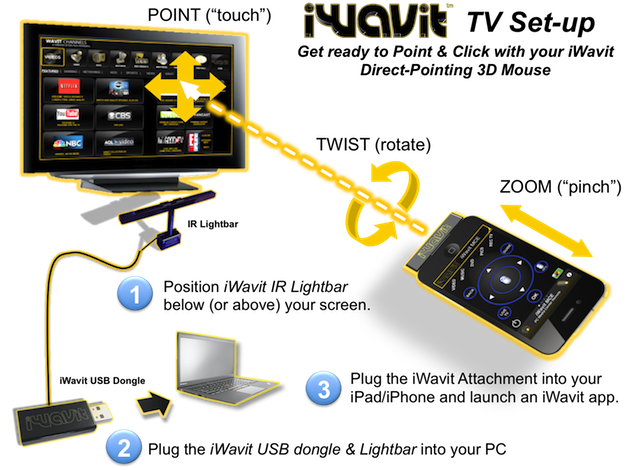 Projector PC Setup :
This picture shows how you can do that in the case where the Screen (and IR Lightbar) are so far away from the PC that it is impractical to run a cable from the PC (and iWavit USB dongle) to the lightbar.  Note: all the different parts are not drawn to scale in this picture.