Licensing and Services
ThinkOptics, Inc was founded on ground-breaking work in the field of optical motion sensing for which it holds numerous core patents. The company's expertise has since expanded to include user interface development, industrial design, mechanical engineering, app programming, manufacturing, wireless technology, embedded  technologies, IP generation and licensing.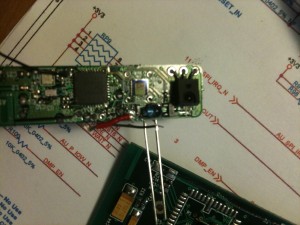 Our patented "Remote-Touch" Interface capability, implemented via a tiny electronic module like that shown above, can transform and simplify TV interactivity in living rooms.
The key applications for this capability are TV navigation and Gaming.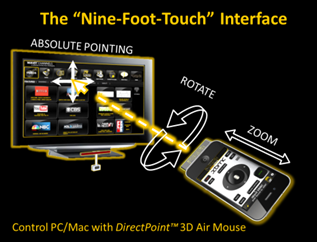 We seek strategic partners who lead with key customer solutions and OEM components in this space. They include Interactive TV makers, Set-top-box vendors, Component providers and Gaming systems and software vendors.
Our partners can get access to our mature, market-tested and robust 3D optical motion-sensing technology by licensing it. They can differentiate their devices in the marketplace by enabling a very intuitive TV experience to their customers via our "Remote-Touch capability. They can integrate this mature technology into their solutions at a level that allows them to reach the market quickly.  We also provide assistance in designing and prototyping new products that incorporate our technology.
In addition to technology licensing, we offer services that leverage our current product line, and our world-class engineering expertise, in order to meet specific customer needs. Such services include custom versions of our iWavit product line, as well as, custom iPhone apps that run on these products.
For more information, please contact us at:  sales@thinkoptics.com