iWavit 2xIR Booster Pack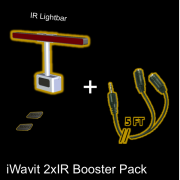 Increase your IR Range by 2X!!!   Plug the 2.5mm splitter cable into your iWavit USB dongle and attach two IR Lightbars.
Use, it for example, to place one IR Lightbar  inside a cabinet and the other near your TV.  Alternatively just place them near each other and you will double your IR range.
You can use more of these booster packs on a single USB dongle if you want ungodly IR blasting power. Blast IR codes using a total of 6, 12, 18, or 24 IR LEDs! Includes: extra IR Lightbar, metal plates and 5ft long splitter cable.
People who bought this item also bought
Updating...