iWavit USB Dongle ONLY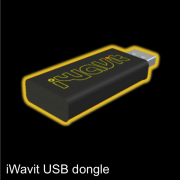 This Wireless USB Dongle is needed if you want to control a PC/Mac/Linux computer or a PS3. (It is part of the Premium Kit)
It is normally used together with the IR Lightbar to enable 1) complete 3D motion tracking, and 2) wireless IR Extender functionality.
NOTE: This product requires that you have the iWavit "Basic" Attachment. The iWavit Attachment communicates to the iWavit USB dongle via a long-range 2.4GHz RF link.
People who bought this item also bought
Updating...