Lightbar-to-USB adaptor cable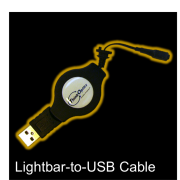 Use the iWavit in a Projector/Conference Room Setup
For the patented 3D Mouse feature to work, the iWavit IR Lightbar should be positioned right above or below your Screen.  In some situations (such as conference rooms or home theater projection setups),  the PC and Screen are so far from each other that it becomes impractical to run a cable from the PC to the Screen.  No problem:  Use this Lightbar-to-USB adaptor cable to power your IR Lightbar positioned near your Screen.
Now you can proceed to plug the USB dongle into any PC that controls the projection screen, and you will immediately have the patented Direct-Pointing 3D Mouse control.  You will also still have the direct RF control of the PC via keyboard and multimedia keys. You will, of course, not have the "IR Repeater"  control because the IR lightbar is not physically connected to the USB dongle.
See this link for more details on how to set up your iWavit in different configurations.
Updating...