Wavit 3D Handset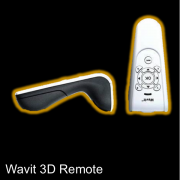 This Remote is for those who also want a real physical remote, and not just an iPhone attachment. It is a 3D Air Mouse for your PC connected to your TV.
Use it together with the iWavit USB dongle & IR Lightbar to control almost any computer through direct-pointing cursor control. With the iWavit IR Lightbar placed right below your TV, you can now point your Wavit Remote at your TV. Where you point is where the cursor appears.
The Wavit handset has 10 buttons which have fixed PC functions (Left mouse, arrow keys, zoom, volume, ESC, return, right mouse). However, for those who want to add more flexibility, you can install the PC software "WavitMENU" (see www.wavit.com) to get multiple button modes, and programmable buttons. Comes in three different colors.
Updating...