Wavit Classic: 3D PC Remote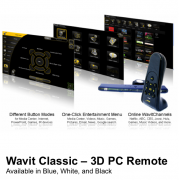 The Award-Winning Classic Wavit 3D Mouse & Remote Control with large IR Lightbar (POD) and built-in IR learning.
The Wavit Handset is for those who want to control their PC from the comfort of the sofa. It is ideal for anyone who has a Windows PC connected to their large screen TV. The Wavit is an absolute-pointing 3D Air Mouse, meaning that where you point your Handset is where the cursor goes.  In addition to PC control, the Wavit POD can also learn and blast IR functions to allow control of electronic device with IR receivers, like TVs and DVDs.  Use the Windows PC Program called WavitMENU120 to reconfigure your button functions.  Comes in three different colors - White "Summit", Blue "Surf", and Black "Eclipse". See also www.wavit.com
Note: The Wavit Classic POD only works on Windows computers (XP, MCE, and Windows 7) and requires the installation of PC software and drivers. An alternative to the "Wavit Classic" is to buy a "Wavit Special Edition". The benefit to this configuration is that while the Handset is the same, the USB dongle & IR lightbar are smaller and are completely plug&play on any OS, with no software required. The trade-off is that there is no IR learning function.
Updating...