SALE! Click on SHOP to see special deals. iWavit Premium, iWavit Basic, and iWavit Blast! are now in stock. We also have a new Dual-Blaster Cable.
iWavit for iPhone&iPad
The iWavit is an Apple certified accessory for the iPhone, iPod touch and iPad. It turns your iOS device into the Ultimate Remote Control. The iWavit follows in the footsteps of the very first product from ThinkOptics, the Wavit 3D PC Remote.
With the iWavit, you will be able to control almost any Consumer Electronics device that has an IR receiver, such as a TV, DVD, satellite box, or cable TV box. You will ALSO be able to control any Computer. You get an RF range of over 300 ft. Best of all, it is all plug & play. No need for a WiFi network, or calibration, or passwords.
We just launched the newest addition to the iWavit family: the Bluetooth Smart iWavit Blast!  Read more HERE.


Read more »
iWavit Blast!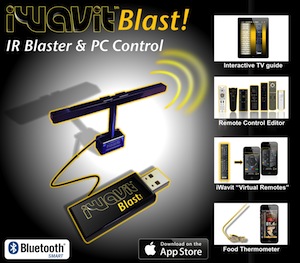 ThinkOptics has just launched the new iWavit Blast! product. It turns the latest generation Bluetooth 4.0 equipped iDevices into the Ultimate Remote for controlling any IR device as well as Windows/Mac/Android/Linux Computers.
The new iWavit Blast! TV&PC Bundle costs $44.99 and works with iPhone 4S, iPhone 5, iPad 3, iPad 4, iPad mini, iPod Touch 5th gen. The iWavit Blast! comprises a plug&play USB dongle with a powerful IR Lightbar.
Just like the iWavit Basic and iWavit Premium, you can have all your remotes available to you at a moments notice, because they are all inside your phone and cannot be lost in the couch. However, unlike the other iWavit products, the iWavit Blast! does not require any attachment to be plugged into the iPhone or iPad.  And with this one, you can also turn it into a wireless food thermometer. What?!
Read more »
Licensing
TVs are becoming smart, and increasingly come loaded with apps, like tablets. They are becoming internet-connected, app-infused, online-content consuming devices.
The content on TV is rich and getting richer, but the interactivity with the TV has stayed poor. Have you tried to play a casual game or navigate a web page, or type something on your TV lately?
This is the problem that our "Remote-Touch" 3D Optical tracking technology  addresses. It enables the kind of user interface consumers already know and love in their smart tablet: intuitive, responsive interactivity, like touching the TV without getting up from the sofa. ThinkOptics, Inc. has extensive experience and IP surrounding the digital living room.
Our core principle is to enable "Remote Touch" – being able to directly point your remote at any object on your TV screen. "Where you point is where the cursor goes". Direct. Simple. No Drift. No need for constant re-centering, as is the case for gyro-based pointers. We have invented fundamental patent-protected 3D optical tracking technology and been improving on it for the past 8 years, to make it smaller, more robust, faster, with lower energy, higher resolution, and cheaper than ever before.
We license our technology to strategic partners. We provide technology modules, engineering reference designs, and other related engineering services.
To explore all the options, please contact us at sales@ThinkOptics.com
Read more »